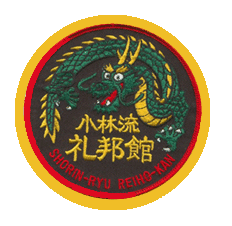 CIRCLE: Peace and Impartiality "The foundation of Budo spirit"
RED COLOR: Passion or Zeal "The shining sun in Okinawa like a flame"
DRAGON: Development or Progress "The symbol of Reihoukan"
YELLOW COLOR: Courtesy and Reverence "Respect for others at all times"
Chico Dojo Karate Club's mission is to offer quality training in Kobayashi Shorin Ryu Karate and Kobudo (weapons), a style from Okinawa, Japan. To achieve our mission, each class is taught by a well-trained black belt instructor. We offer instruction to adults and children, ages four and up. Traditional Okinawan Kobudo classes are available to advanced students, they learn the katas and techniques of the Bo, Sai, Kama, Nunchaku, Tonfa, and Eku weapons. Chico Dojo prides itself in teaching the art of karate. Our dojo is a fun family environment filled with self-defense techniques and confidence-building attributes. Mike Evans has been training in Okinawan Karate for over 44 years. Kyoshi Mike travels at least once a year to Okinawa to train with Grand Master Naonobu Ahagon at his school. Mike takes dedicated students with him to Okinawa to train and test. In April of 2004, Hanshi Ahagon came to the United States for the third time to train with Mike and his students. The Dojo being as family-oriented as it is usually planning at least one or two trips a year to go camping and boating on the lake and rivers. Chico Dojo also enters Karate Tournaments in the surrounding area and enjoys the aspect of fun competition. We believe in building children's self-confidence and strength from the inside out and promoting physical fitness all in a FUN and UPBEAT environment!! Kids Karate builds self-esteem as well as self-discipline, respect, concentration, and courtesy. We teach a traditional Okinawa Style Karate that is considered one of the safest methods of martial arts. We emphasize physical control as well as mental development. As the student advances, we provide a belt test & ceremony and invite families to celebrate the accomplishments of their children. We invite you and your child to observe a class at any time, just give us a call!
Lineage
PEICHIN TAKAHARA
SATSUNUKU "TODE" SAKUGAWA

1735-1815

SOKON "BUSHI" MATSUMURA

1809-1894

YASUTSUNE "ANOKN" ITOSU (SHISHU)

1830-1915

CHOSIN CHIBANA

1885-1969

SHUGURO "HANSHI" NAKAZATO

1919-present

NAONOBU "HANSHI" AHAGON

1939-present

MICHAEL "KYOSHI" EVANS

1959-present
Okinawa Karate-Do Shorin-Ryu Reiho-Kan Association
KOBIYASHI STYLE
SHURI LINEAGE
Reihokan's Weapon History
Kobudo's Teachers:
First:       Seiro Tonaki, Masami Chinen
Second:  Shuguro Nakazato
Third:     Naonobu Ahagon
WEAPON KATA         PERSON OF ORIGIN
Sai 1st Kata                  Kenko Nakaima
Sai 2nd Kata                Kenko Nakaima
Syushi's kon                 Yamane
Sakugawa's kon           Yamane
Kubo's kon                   Kenko Nakaima
Kama Kenko                Nakaima
Nunchaku (2)              Seiro Tonaki